Retirement Lawn Sign Rental
00003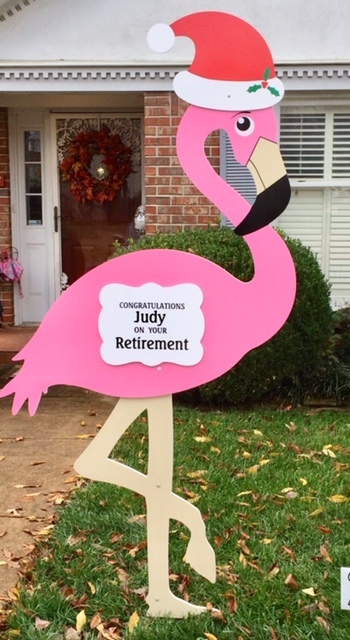 Three-day Rental
Celebrate completion of a long career with one of our Retirement Lawn Sign Rentals!
Choose from 3 styles:

Our six-foot FLAMINGO with his sombrero (Charles Retired! Goodbye Tension, Hello Pension!)
Our four-foot blue and yellow sailboat ("Sailing into retirement!")
Our four-foot traditional lawn sign with top banner and room for the most wording. Charles Retired June 1st. DuPont - 37 years
Each of these rent for $75 for 3 days.




ChattanoogaStork Lady isa home-based sign rental business located in the East Brainerd areaof Chattanooga. We deliver to the greater Chattanooga area and partsof bordering North Georgia counties, including the followinglocations: Chattanooga, TN, Ooltewah, TN, Collegedale, TN, SignalMountain, TN, St. Elmo, TN, East Brainerd, TN, Soddy Daisy, TN, RedBank, TN, Harrison, TN, North Shore, TN, Hixson, TN, East Ridge, TN,Apison,TN, Cleveland, TN, allof Hamilton County, TN, Lookout Mountain, GA, Graysville, GA, FortOglethorpe, Rossville, GA, Ringgold, GA, Dalton,GA, and Chickamauga, GA.


NOTE:Deliveries to locations beyond our 20-mile radius (for example,Cleveland, TN and Dalton, GA) will require an additional $20 deliveryfee

Callus at 423-800-1537 ifyou have questions.
Type of Sign
Six-foot FLAMINGO with His Sombrero (0) Four-foot blue and yellow sailboat ("Sailing Into Retirement") (0) Four-foot Traditional Lawn Sign with Top (0)
Address Where Sign Is To Be Installed (Street/City/State/Zip)
Date Sign Is To Be Installed
Name of Person Placing Order
Phone Number of Person Placing Order