Cupcake Lawn Sign Rental
00001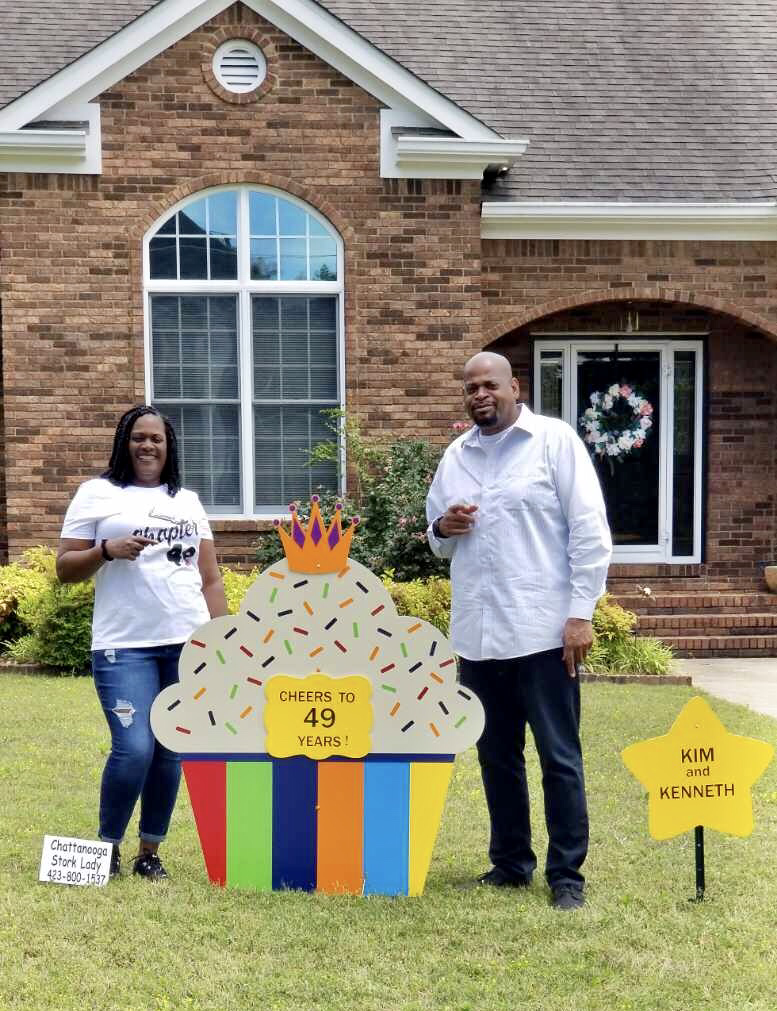 Cupcakes
Three-day rental is $70. This includes a birthday balloon and a card from the sender.

Cupcake design options:
Pastel circles base with pink frosting
Primary color striped base with tan frosting
Black and white chevron base with white frosting
Cupcake Rentals are 4 ft. tall and 4 ft. wide.

You choose the topper on your cupcake. Read the descriptions below:
For a child's cupcake- choose a single candle, a 12" red number(1-9), a red fire truck, a princess crown, or a cherry -shaped topper( as in the photo).
You choose the attached message.
For an adult's cupcake, topper choices are:

a single candle, a crown, a variety of cherry toppers (ex: Over the Hill, etc.)
You choose the attached message.
Chattanooga Stork Lady is a home-based sign rental business located in the East Brainerd area of Chattanooga. We deliver to the greater Chattanooga area and parts of bordering North Georgia counties, including the following locations: Chattanooga, TN, Ooltewah, TN, Collegedale, TN, Signal Mountain, TN, St. Elmo, TN, East Brainerd, TN, Soddy Daisy, TN, Red Bank, TN, Harrison, TN, North Shore, TN, Hixson, TN, East Ridge, TN, Apison, TN, Cleveland, TN, all of Hamilton County, TN, Lookout Mountain, GA, Graysville, GA, Fort Oglethorpe, Rossville, GA, Ringgold, GA, Dalton, GA, and Chickamauga, GA.
NOTE: Deliveries to locations beyond our 20-mile radius (for example, Cleveland, TN and Dalton, GA) will require an additional $20 delivery fee
Call us at 423-800-1537 if you have questions.
Choose a Cupcake Design
Pastel Circles Base with Pink Frosting (0) Primary Color Striped Based with Tan Frosting (0) Black and White Chevron Base with White Frosting (0)
Choose a Topper - CHILD'S CUPCAKE
Single Candle (0) 12" Red Number (1-9) (0) Red Fire Truck (0) Princess Crown (0) Cherry-shaped (0)
Specify Message to be Attached - CHILD
If Number Topper Was Selected, Choose Number To Be Used
Choose a Topper - ADULT CUPCAKE
Single Candle (0) Crown (0) Cherry (0)
Specify Message to be Attached - ADULT
Address Where Sign Is To Be Installed (Street/City/State/Zip)
Date Sign Is To Be Installed
Name of Person Placing Order
Phone Number of Person Placing Order