Flamingo/Flocking Lawn Sign Rental
00006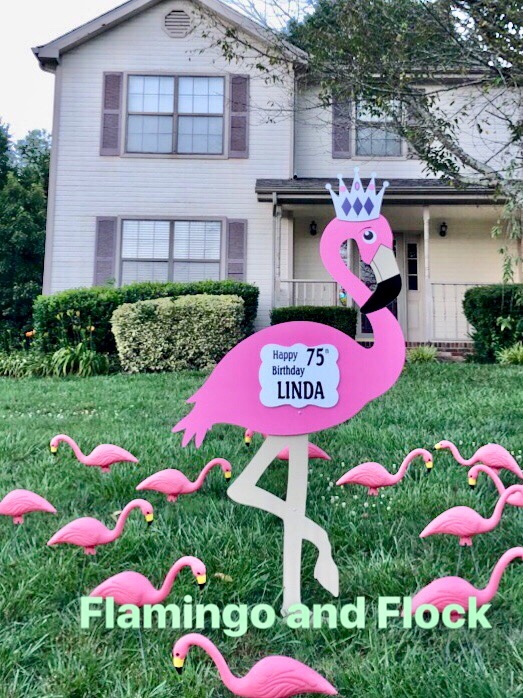 Our six-foot-tall PVC FLAMINGO is our most popular sign rental! Teens love him and guys prefer him for birthday celebrations.

You choose the message he carries, and you choose the hat that he wears. The hat choices are a colorful sombrero, a black top hat, a cowboy or sheriff's hat, or a regal crown.

The FLAMINGO can be rented alone (3 days for $70) or he can be rented surrounded by a flock for a small additional charge.
Flock of 12 small flamingos- $15 additional
Flock of 24 small flamingos- $30 additional
Flock of 36 small flamingos - $45 additional
Chattanooga Stork Lady is a home-based stork rental business located in the East Brainerd area of Chattanooga. We deliver to the greater Chattanooga area and parts of bordering North Georgia counties, including the following locations Chattanooga, Ooltewah, Collegedale, Signal Mountain, St. Elmo, East Brainerd, Soddy Daisy, Red Bank, Harrison, North Shore, Hixson, East Ridge, all of Hamilton County, Lookout Mountain – GA, Graysville – GA, Fort Oglethorpe, Rossville, GA, Ringgold, GA.
Specify Message for Large Flamingo
Select Hat for Large Flamingo
Colorful Sombrero (0) Black Top Hat (0) Cowboy/Sheriff's Hat (0) Regal Crown (0)
Add a Flock of Small Flamingos Around Large Flamingo
Select Size of Flock (Additional Charges Apply) (0) Add a Flock of 12 Small Flamingos (12) Add a Flock of 24 Small Flamingos (24) Add a Flock of 36 Small Flamingos (36)
Address Where Sign Is To Be Installed (Street/City/State/Zip)
Date Sign Is To Be Insalled
Name of Person Placing Order
Phone Number of Person Placing Order