Class Reunion Lawn Sign Rental
00004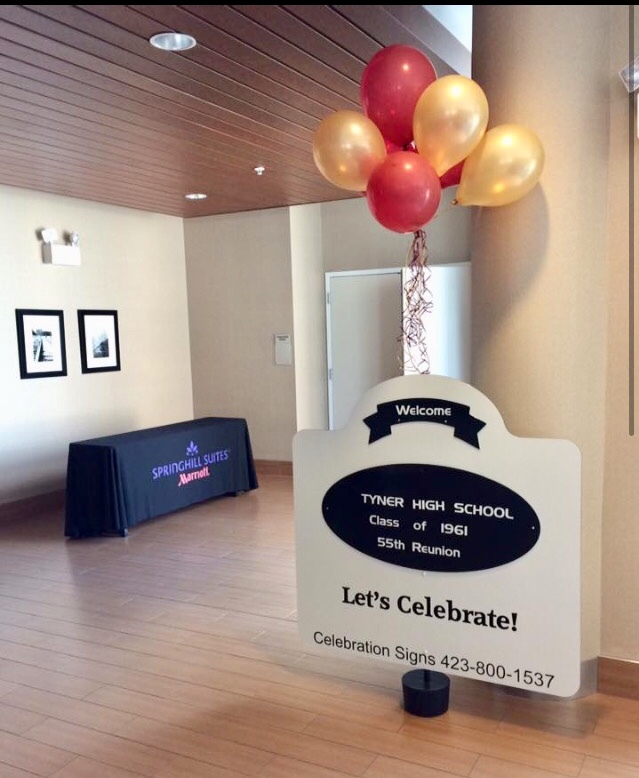 Class reunions are a fun way to reconnect with former classmates. Our PVC sign is four feet tall and can serve double duty.
Put it at the front door to welcome everybody, and then bring it inside to serve as a centerpiece for photos with your friends! Usually, a generous alum will volunteer to rent one for the evening.
Rental cost is $65 for the event. We deliver, set it up, and retrieve it before the evening ends.

The six-foot FLAMINGO can also be used for your class reunion at a rate of $75 for the evening.

Optional: For an additional $15, we will attach a balloon cluster in your school colors to the back of the sign.
Chattanooga Stork Lady is a home-based sign rental business located in the East Brainerd area of Chattanooga. We deliver to the greater Chattanooga area and parts of bordering North Georgia counties, including the following locations: Chattanooga, TN, Ooltewah, TN, Collegedale, TN, Signal Mountain, TN, St. Elmo, TN, East Brainerd, TN, Soddy Daisy, TN, Red Bank, TN, Harrison, TN, North Shore, TN, Hixson, TN, East Ridge, TN, Apison, TN, Cleveland, TN, all of Hamilton County, TN, Lookout Mountain, GA, Graysville, GA, Fort Oglethorpe, Rossville, GA, Ringgold, GA, Dalton, GA, and Chickamauga, GA.
NOTE: Deliveries to locations beyond our 20-mile radius (for example, Cleveland, TN and Dalton, GA) will require an additional $20 delivery fee
Call us at 423-800-1537 if you have questions.
Specify Message for Sign (School Name, Class of _____, etc.)
Optional Add-on
Balloon Cluster to Adorn the Sign (15)
If Ordering Balloon Cluster Add-on, Specify School Colors
Address Where Sign Is To Be Installed (Street/City/State/Zip)
Date Sign Is To Be Installed
Name of Person Placing Order
Phone Number of Person Placing Order